Older People's Services
Latest research from all over Europe demonstrates the importance of social, creative activities and continuation of learning later in life in keeping people healthy and in helping them to have a fulfilling social interaction with the rest of their community.
Here at Upper Andersonstown Community Forum, all management and staff believe that creative, stimulating, learning and social activities is for everyone and that learning later in life is vitally important.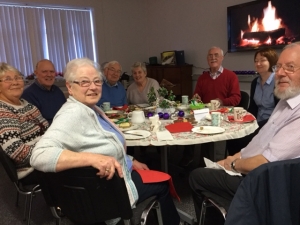 Over the years, our older generation has been encouraged to participate in community life. To achieve this participation, the Forum has provided a varied range of services and programmes specifically aimed at this age group. This provision has always included outings and bus tours, social occasions such as dances, bingo, Christmas dinners, involvement In Festival activities and provision of advice sessions on issues affecting this age group. Representatives of the older generation have always served on management committees of various groups affiliated to Upper Andersonstown Community Forum.
Lifelong Learning
Senior Citizens have always been involved in classes and training sessions at Tullymore with no upper age restriction. Needs have been identified using a variety of community research, together with direct feedback from existing users, including programme evaluations and direct requests to develop new services: For example; information from older people, who have used the Centres for other services, has shown that they feel left out from new technologies, that they do not need office style ICT skills, and also that they need to develop their confidence alongside their own age group.
This feedback helped to inform the design of the Over 60's Learning project which was funded by the Turkington Fund administered by The Community Foundation. During taster sessions provided, participants were asked what they would like to learn and the syllabus was tailored to their needs and interests. A common request was how to send and receive e-mails and photos so participants could keep in contact with children and grandchildren. Classes were designed to be fun and enjoyable and tools such as Google Earth were used. Emphasis was placed on communication, with internet and e-mail skills being offered from the start. An important element of the project was an intergenerational programme, in association with Tullymore's After-school group, using computers and animated figures made using modeling clay. Participants produced a DVD, telling an animated story on the theme of 'Mickey Marley's Roundabout'. This Belfast character from the 1960s and 70s was familiar to all of the older participants and they were able to pass the story on to the younger members of the group, and all took part in bringing the animated story to life.
In the Andersonstown Neighbourhood Renewal Area, results from the last census indicate that 20.9 per cent of the population was aged 60+ (NI average 17.6 per cent) and 16.7 per cent of households were lone pensioner households (NI average 12.8 per cent). These figures indicate that there are around 2,000 people aged 60+ in the local area, a large proportion of whom are lone pensioners. While many of these individuals are active in the community, consultation and local knowledge indicates that there are many older people who simply don't leave their home or sheltered accommodation where they live and don't get involved in their communities at all, while many are dealing with physical and mental health difficulties.
Upper Andersonstown Community Forum has recently been awarded funding from the Big Lottery Fund's Reaching out: Connecting Older People programme which supports older people affected by issues such as bereavement, disability or long term illness or who live in residential care or sheltered housing. UACF will use the funding to provide a range of training and activities to help reduce the isolation, improve the mental and physical health and build the confidence and community involvement of older people in the Andersonstown area who are living in their own homes or sheltered accommodation.
The Lottery funded UTOPIA (Using Technology, Older People In Action project is teaching older people how to use technology such as computers and social media, digital cameras and DVD editing so they can communicate with friends and family, share their ideas and get more involved in community life, and pass on their knowledge and experiences to young people.
As well as technology training, the project will also recruit volunteers amongst the 60 plus age group who will help run a range of activities for their peer group of over 60s involved In the activities, to include social outings, drop-in social sessions, arts & crafts and dancing, exercise and walking groups, and much more.
The main aim of the UTOPIA (Using Technology, Older People in Action) project is to offer support and encouragement to older people, enabling them to engage with activities at UACF that reduce their isolation, enhance their well-being and help them live healthy, independent lives, continuing to be involved in social, civil and political life as valued members of their community.
The project, within Tullymore Centre and through Outreach to Sheltered Accommodation, is using a range of technology activities and a mix of social learning activities, including multimedia and visual arts, electronic games, crafts, dance, music and indoor and outdoor physical activities to support the development of all participants and improve their quality of life.