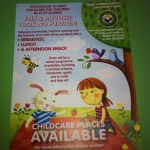 Registration now available for summer day care. Running from the 3rd of July until the 30th of August.
prices are :
£20 8:30-1:30
£20 1:30-5:30…
£30 8:30-5:30
which includes all activities and trips. Breakfast, a two course lunch and an afternoon snack.
We have lots of fun filled activities going on including arts/crafts
🎨, cooking/baking
🍰, outdoor golf course
⛳️' outdoor go karts, sports, dance teachers and lots more.
Also we have loads of trips planned eg W5, the beach, the museum, Newcastle/cocos, the zoo, the farm, parks and lots more.
Feel at ease at work while your children are enjoying there summer at Tullymore.